Specifications

CFC-free refrigeration
7-inch touch control
LCD display

SJIA-10N freeze dryer is a cost effective and high performance benchtop freeze dryers.

Microprocessor controls.

3 Liters in 24hours ice capacity.

Internal condenser coil-304 or 316 stainless steel.

-55C or -80C condenser lowest temperature.

304 or 316 stainless construction.

CFC-free refrigeration.(optional for customer's request refrigeration:R507,R410A, etc.)

Heating element to defrost available for optional.

Transparent Acrylic Drum drying chamber for user to observe the drying process.

7'' LCD touch control ,LCD display
parameters include vacuum,

condenser temperature

run time

ambient temperature.
For water based samples, the -55C condenser is the perfect choice with effective cost.
For samples containing solvents or with low eutectic points, the -80 C condenser provides maximum performance.
For labs that need quick turn-around, Heating element to defrost available.
Main Technical Parameters: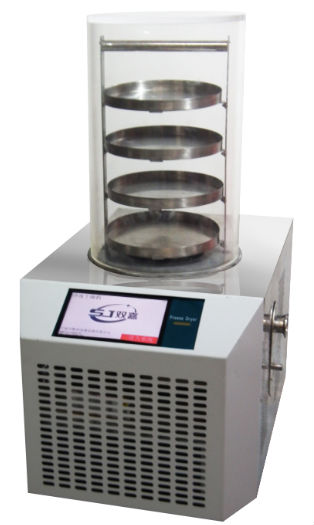 The SJIA-10N bench top freeze dryer can build with 5 common application different accessories.
The versatile freeze dryer can meet customer's various application.
Bio-equip is a professional website which provides the information of equipments, consumables, chemical reagents and experimental animals in life science.

Our website which takes full advantage of the most up-to-date computer technologies and networks offers the most all-round and considerate service in the information of biology equipments for not only institutes, universities, labs in hospitals but also scientists in bio-engineering and bio-medicine industries and suppliers of lab equipments who would be exposed to comprehensive and well-timed market information to compare the different products in function and price ....'