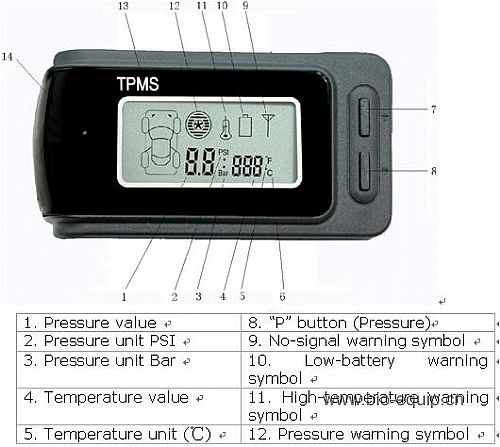 Tire Pressure Monitoring System
Place of Origin:
China

Brand:

Model:

Supplier:

Price:

Hits:
2402

Updated:
5/26/2022
Product Detail
Company Profile
Technical Specifications
Receiver
1. Working frequency: 433.92MHz
2. Power supply: 9--12V
3. Working temperature range: –20 ℃ — +85℃
4. Unit outline size: 85mm×44mm×16mm
5. Working electric current: 20mA

Transmitter:
1. Transmitting frequency: 433.92MHz
2. Transmitting power: >0dBm
3. Monitored pressure range: 100kPa — 350kPa ( 0Bar-3.5Bar )
4. Pressure accuracy: 10kPa( 0.1Bar )
5. Monitored temperature range: –40 ℃ — +125℃
6. Temperature accuracy: ±2℃
7. Battery life: over 6 years
8. Working temperature range: –40℃—+125℃
9. Unit outline size: 66mm×30mm×20mm


Ningbo Sjialab Equipment Co.,ltd is one of the leading laboratory instruments manu-facturers and exporters lyophilizer,thermostatic bath,homogenizer,sonicator,centrifuge etc. laboratory and scientific instruments.

There Laboratory ,scientific Instruments can be used in general laboratory,sterilizing / clean room,biotechnology or college laboratory.

Our company has passed ISO9001:2000 International Quality and Management System Attestation, and received CE Security Attestation Certificate and Medicare Appliances-Producing License.We share great pretisge from our customers because of our excellent quality and service.

Our goal is to be the most professional in laboratory products in China.

Excellet service derives from speciality.