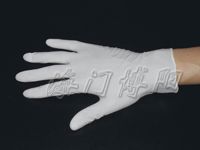 PE latex glove
Place of Origin:
China

Model:

Supplier:

Price:

Hits:
684

Updated:
3/5/2013
Product Detail
Company Profile
Boyang experimental equipment factory is a professional manufacturer involving exploitation, manufacture and sales. It is located on the lower reaches' north shore of beautiful and prolific Yangtze River delta, looking at international metropolis Shanghai by the river, with superior geography position and convenient transportation.

Our factory has a set of imported high-precision mould processing equipment and advanced injection molding techniques, strictly carrying out ISO9001 quality system standard, and establishing solid foundation for producing quality products. Our main products are cell plates, cell culture dishes, enzyme targets, silica gel plugs, sucker(boxes), centrifugal tubes(boxes), frozen pipes(boxes), test tubes, blood clotting plates, cuvettes, various kinds of glass apparatus and other experimental consumable materials.

Boyang always insists on the quality policy of "pursuing splendor, creating perfection, establishing brand, and serving customers", which is widely agreed with in the same business. Boyang experimental equipment is willing to work with colleagues in different social circles, striving for a bright future for human life sciences and medical enterprise.