1-5L Three-layer jacketed glass reactor
jacketed glass reactor, three-layer reactor with jacket, chemical jacketed glass reactor, lab jacket glass reactor, borosilicate glass reactor
LGR-T
LABOAO
Any port in China
Plywood case package

The body of the three-layer glass reactor is composed of two sets of interlayers composed of three layers of glass, which can provide a stirring function and control the evaporation and reflux of the reaction solution.




Description
The body of the three-layer glass reactor is composed of two sets of interlayers composed of three layers of glass, which can provide a stirring function and control the evaporation and reflux of the reaction solution. The inner jacket of the three-layer glass reactor is used for heating or cooling. The outer jacket is used for vacuuming, and the refrigerating or heating temperature of the materials in the kettle can be maintained as much as possible under the vacuum state of the outer interlayer. The materials are reacted in the reaction kettle, and after the reaction, the materials are discharged from the PTFE outlet at the bottom of the kettle.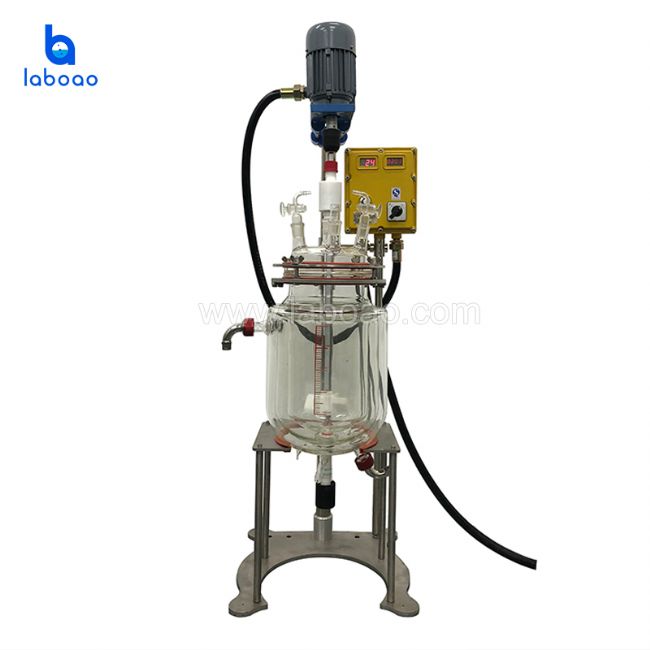 Feature
1. Explosion-proof: explosion-proof motor and explosion-proof frequency converter;
2. Mechanical seal: The internal mechanical seal is a combination of moving and static rings, which is wear-resistant and corrosion-resistant, and has good sealing performance;
3. Stainless steel clamp: the kettle body and the kettle cover are connected by a stainless steel clamp for easy disassembly;
4. Three-layer kettle body: GG17 high borosilicate glass is used, which has good chemical and physical properties. High temperature 250℃ to low temperature -80℃ in large temperature range;
5. Circulating medium import and export: the interface adopts the screw type, which is convenient to connect the temperature control equipment;
6. Discharge valve: Top-up oblique discharge method, the valve core is made of PTFE, no pollution, no corrosion.
Specification
Model
LGR-1T
LGR-2T
LGR-3T
LGR-5T
Volume
1L
2L
3L
5L
Outer diameter of kettle body
150
180
200
230
Outer diameter of kettle mouth
150
150
150
180
Motor Power
90W
60w
Rotating speed
0-400rpm
Reaction bottle cover port
5 ports
Body material
Three-layer glass, high borosilicate glass GG17, expansion coefficient 3.3
PTFE stirring paddle
Single-layer push
Sealing method
Self-lubricating mechanical seal to prevent wear debris from falling off
Vacuum
-0.098Mpa
Reaction temperature of kettle body
-90~250℃
Ambient temperature
5~40℃
Power
220V 50HZ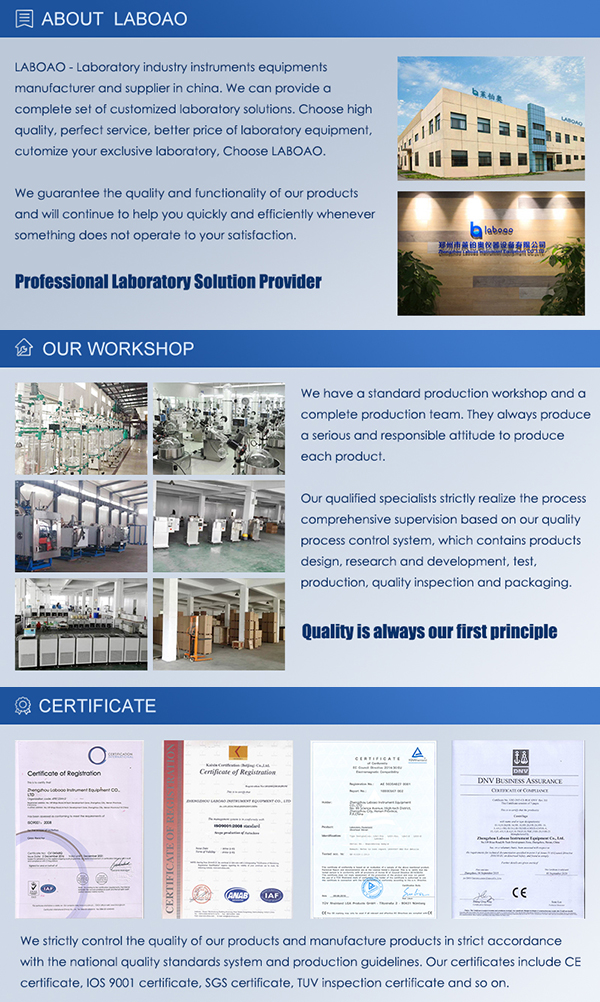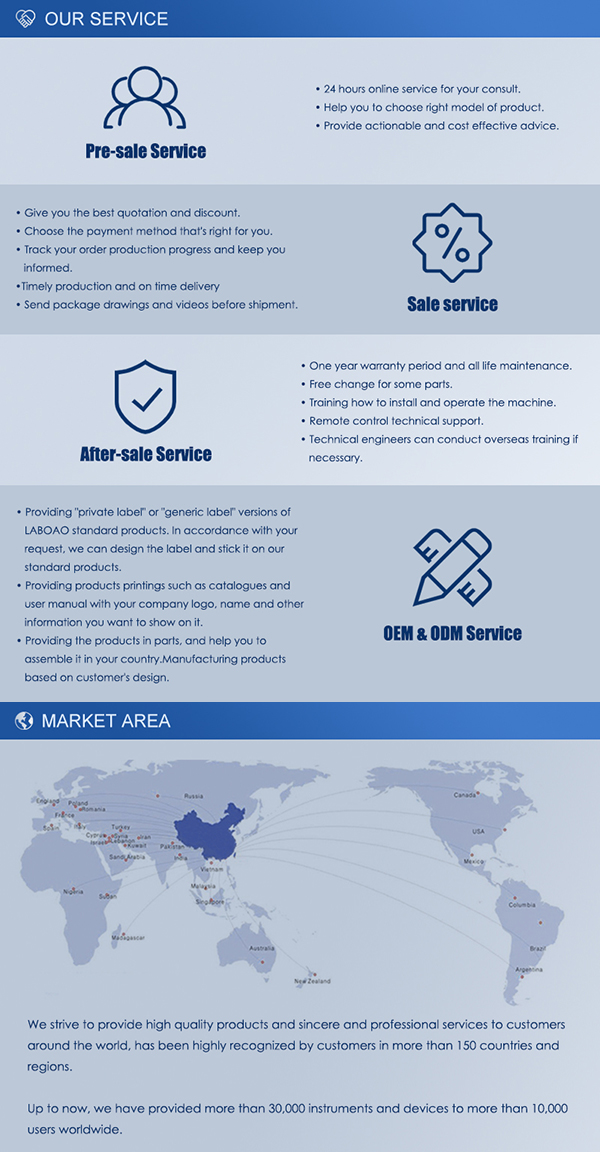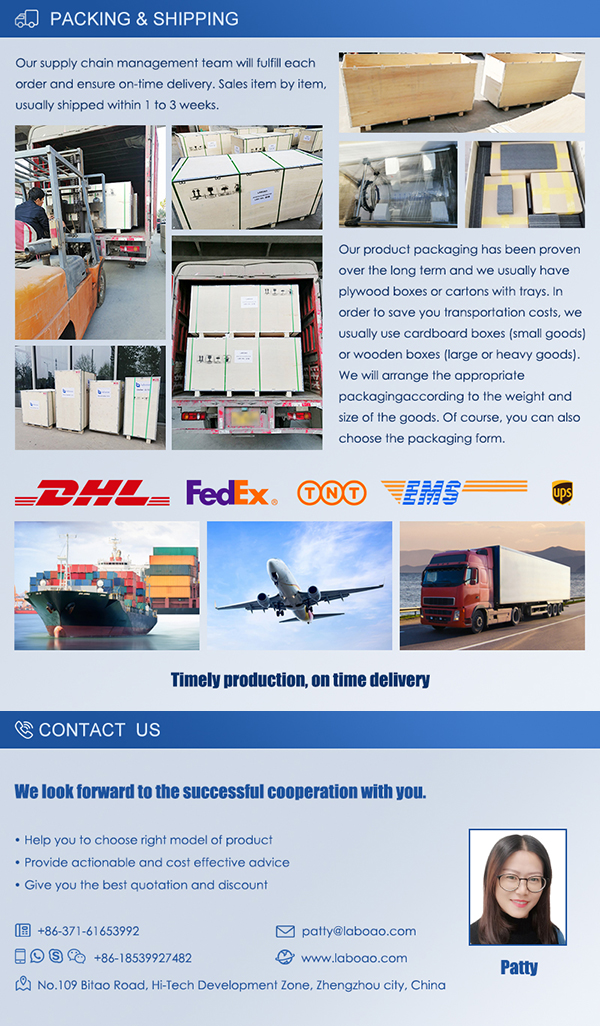 Zhengzhou Laboao Instrument Equipment Co., Ltd is one of a leading company in China, involved in manufacturing and supplying scientific & laboratory equipment. Located in Zhengzhou City, Henan Province in China. We are a professional supplier of laboratory and medical equipment.LABOAO provide a wide range of products for educational institutions, pharmaceutical industries, chemical industries, life science and research laboratories etc. Our main products includes: Glass Reactor, Rotary Evaporator, Spray Dryer, Freeze Dryers, Autoclaves, Centrifuge, Chillers, Furnace, Flame Photometer, Spectrophotometer, Incubator, Oven, Viscometer, Laboratory Shaker, Microplate Reader, Kjeldahl Systems, Test Chambers, Clean Benches, CO2 Incubator, Ultrasonic Cleaner etc. We also provide many professional instruments for different industry, such as food industry, drug testing industry, coal industry, petroleum industry etc. All our products pass through numerous tests and undergo rigorous quality check during every phase of production and comply with stringent international standards.LABOAO is an ISO accredited company, and had certification for both ISO Quality Standard and CE standard.LABOAO company is mainly committed to export good quality product to the world. More than 5years export experience make us more professional. We are driven by continuous innovation and committed to provide reliable quality and competitively priced laboratory equipment."Superior Quality, Top Service" makes LABOAO more reliable.

Our company has 78 employees and 20 R&D teams. More than 85% of the company's employees have more than three years of professional foreign trade experience. 10% of the annual sales are focused on product development and improvement. We believe that only excellent teams can High quality service is good for customers.

We advocates the corporate spirit of "integrity, dedication, integrity, cooperation". With its rich network marketing experience, corporate strategic management and talent advantages, the company constantly explores the past, forms an international channel brand, and incubates international brands with Internet thinking. Mission, strive to achieve our vision of redefining the premium and impact of Chinese products in the global market!